Stan is a versatile chamber musician who is equally at home in the jazz, classical, and contemporary music genres. He has been playing jazz vibraphone for more than a decade. His first trio, the Got Jazz Trio, played for several years in the bay area casual scene. Since then he has played with the Erik Jekabson Trio and recorded for film music.


Currently, Stan is a member of the

Park St. Trio

whose albums 'Goodnight, Daylight' and '3 Plus 5' you can listen to below. If you enjoy it, please consider purchasing a download or physical CD. Scroll further down for recordings of classical and contemporary chamber music as well.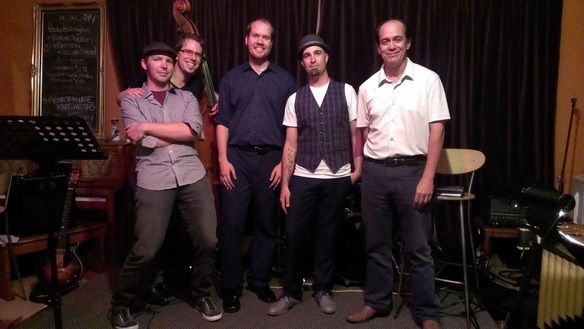 ---
The following recording is of Bela Bartok's
Sonata for Two Pianos and Percussion
with Stan Muncy on timpani and percussion, Perry Dreiman on xylophone and percussion, and Regulo Martinez and Ryan McCullough on pianos. It was recorded at a concert of the Colburn Chamber Music Society in Zipper Hall of Los Angeles and is in three movements.
1.
Assai Lento (13:37)
2.
Lento, ma non troppo (6:51)
3.
Allegro non troppo (8:19)
---
The following recording is an excerpt from a performance of Paul Moravec's
Time Gallery
. Stan is playing marimba and percussion. The other musicians performing are
Michael Roberts on percussion, Lydia Brown on piano, Dima Valerieva Dimitrova on violin, Diana Morgan on flute, Jack Marquardt on clarinet, and Jaehee Ju on cello. The excerpt comes from the second movement titled Time Machine and is part of a large 45 minute work which all the instrumentalists learned and performed within a two week period.
2. Time Machine (excerpt) (
15:01)